Palliative Care & Hospice
At PP Reddy Retirement Homes, we understand the importance of providing compassionate and comprehensive care to our senior residents. Our commitment to enhancing the quality of life for seniors in Hyderabad extends to offering exceptional Palliative Care and Hospice services. Our Palliative Care program is designed to provide comfort, pain management, and emotional support to seniors with serious illnesses, including Palliative Cancer Care. Let us guide you through our Senior Palliative Care and Palliative Hospice Care services, ensuring your loved ones receive the utmost care and comfort during challenging times.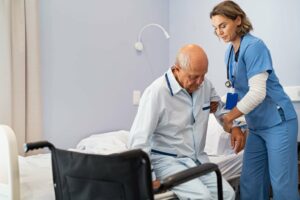 Cancer Care at PP Reddy Retirement Homes
Palliative Care in Hyderabad:
Palliative Care in Hyderabad is a specialized approach to senior healthcare that focuses on improving the quality of life for individuals facing life-limiting illnesses. Our dedicated team of healthcare professionals at PP Reddy Retirement Homes ensures that seniors receive expert, individualized care, tailored to their unique needs
Senior Palliative Care:
Our Senior Palliative Care program addresses the physical, emotional, and psychological needs of our residents. We work closely with residents and their families to create a personalized care plan that helps manage symptoms and improve overall well-being. Our team emphasizes open communication and emotional support, fostering a sense of security and comfort.
Palliative Hospice Care:
When the time comes for end-of-life care, our Palliative Hospice Care services ensure that seniors receive the highest level of comfort and support. We provide a compassionate and tranquil environment that allows residents to live their final moments with dignity and peace. Our team is experienced in providing emotional support to both residents and their families, helping them navigate this difficult journey with grace and compassion.
Palliative Cancer Care:
Our Palliative Cancer Care program compassionately eases pain, mitigates symptoms, and nurtures emotional well-being for seniors and their families during this challenging diagnosis.
Why Choose PP Reddy Retirement Homes for Palliative Care and Hospice:
Experienced and compassionate staff
Individualized care plans
Open communication and emotional support
Comfortable and peaceful environment
Dignified end-of-life care
Specialized Palliative Cancer Care
At PP Reddy Retirement Homes, we are dedicated to providing the best Palliative Care services in Hyderabad. Our mission Maximize comfort in life's final stages for seniors and families. Contact us for the care your loved ones deserve.