Rehabilitation Services in Hyderabad
At PP Reddy Retirement Homes, we take pride in offering exceptional rehabilitation services in Hyderabad. Our dedicated and compassionate team is committed to providing seniors with the care and support they need to regain their independence and lead fulfilling lives. Whether you or a loved one are in need of rehabilitation, we are here to help.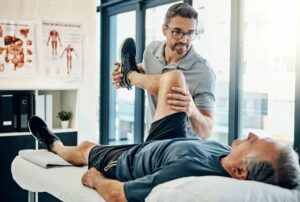 Our Senior Rehab Care Services
Personalized Care Plans
Each resident at PP Reddy Retirement Homes receives a personalized care plan that is tailored to their unique needs and preferences. Our experienced healthcare professionals work closely with each individual to develop a plan that optimizes their recovery and fosters a comfortable transition.
State-of-the-Art Facilities
Our rehab care centers in Hyderabad feature modern, well-equipped facilities designed to facilitate a seamless transition and efficient rehabilitation. We offer a tranquil and safe environment that encourages healing and fosters emotional well-being.
Skilled Care Team
Our dedicated and experienced care team is available around the clock to provide the support and medical attention that residents require. From skilled nurses to therapists, our staff is committed to ensuring that our residents receive the best care possible.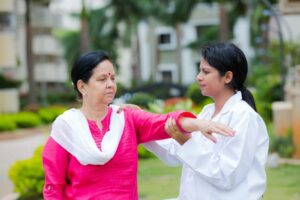 Post-Surgery Rehabilitation: Our rehabilitation services are particularly beneficial for individuals recovering from surgeries. We are here to help them regain strength and mobility quickly and effectively.
Physical and Occupational Therapy: Our rehabilitation programs include both physical and occupational therapy to enhance residents' ability to perform daily activities independently.
Medication Management: Our skilled nurses manage medications, ensuring that residents receive their prescriptions on time and in the correct dosage.
Pain Management: We understand the importance of pain management in the recovery process. Our team works closely with residents to ensure they are as comfortable as possible during their stay.
Nutritional Support: A well-balanced diet is crucial for recovery. Our chefs and nutritionists create custom meal plans to meet individual dietary needs and preferences.
Benefits of Senior Rehab Care Services
Faster recovery and increased independence
Personalized care plans tailored to individual needs
Supportive and nurturing environment
Access to a skilled and caring healthcare team
Improved overall well-being
Contact Us Today
Are you or a loved one in need of Senior rehab care services in Hyderabad? Contact us today to learn more about the services and amenities we offer at PP Reddy Retirement Homes. Our team is ready to assist you in making a smooth transition to a better, healthier, and more independent life.
We're here to support you every step of the way.