Discover the best luxury retirement homes in Hyderabad at PP Reddy Retirement Homes. Experience unmatched comfort and community living for your golden years.
Are you or your loved ones considering a serene and luxurious retirement life in the heart of Hyderabad? Look no further than PP Reddy Retirement Homes is the best Retirement Homes in Hyderabad. As the leading name in the realm of retirement living, PP Reddy Retirement Homes brings you a unique and exceptional concept that redefines the golden years – combining comfort, community, and care in an unparalleled manner.
Luxury Retirement Homes in Hyderabad:
Nestled amidst the bustling cityscape of Hyderabad, PP Reddy Retirement Homes stands as a testament to luxurious and fulfilling retirement living. Retirement Homes in Hyderabad Our homes are meticulously designed to provide you with an exquisite lifestyle that caters to your every need. Each residence exudes elegance and sophistication, ensuring that your retirement years are spent in the lap of luxury.
Best Retirement Homes in Hyderabad:
When it comes to retirement living, PP Reddy Retirement Homes takes the crown as one of the best in Hyderabad. Our commitment to offering an unparalleled living experience is reflected in every aspect of our community. From well-appointed interiors to a range of world-class amenities, we have carefully curated an environment that fosters relaxation, engagement, and a strong sense of community.
A Haven of Community and Care:
At PP Reddy Retirement Homes, we understand the importance of staying socially connected during retirement. Our community-oriented approach encourages residents to form lasting friendships and indulge in shared activities that enrich their lives. Whether it's engaging in hobbies, participating in wellness programs, or simply sharing stories, our retirement homes are designed to foster a sense of belonging.
But it's not just about companionship – it's about quality care too. Our dedicated team of professionals ensures that residents receive the care they deserve, tailored to their unique needs. With a focus on both physical and emotional well-being, you can trust that your time with us will be spent in comfort and security.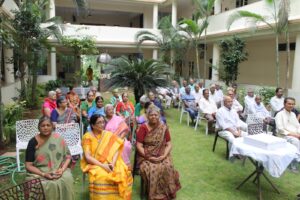 Experience the Difference:
What sets PP Reddy Retirement Homes apart is our unwavering commitment to providing an exceptional retirement experience. Our homes are equipped with modern conveniences and safety features, ensuring that you can enjoy your golden years without worries. The lush green spaces, thoughtfully designed common areas, and a range of recreational facilities contribute to a vibrant and fulfilling lifestyle.
Your Journey to Luxury Retirement Starts Here:
Embark on a new chapter of your life filled with luxury, community, and care. Choose PP Reddy Retirement Homes for an unparalleled retirement living experience in Hyderabad. Discover the perfect blend of comfort, engagement, and relaxation that you truly deserve.
Don't miss out on the opportunity to be part of the finest luxury retirement community in Hyderabad. Contact us today to schedule a tour and explore the endless possibilities that await you at PP Reddy Retirement Homes. Your golden years should be nothing short of extraordinary.