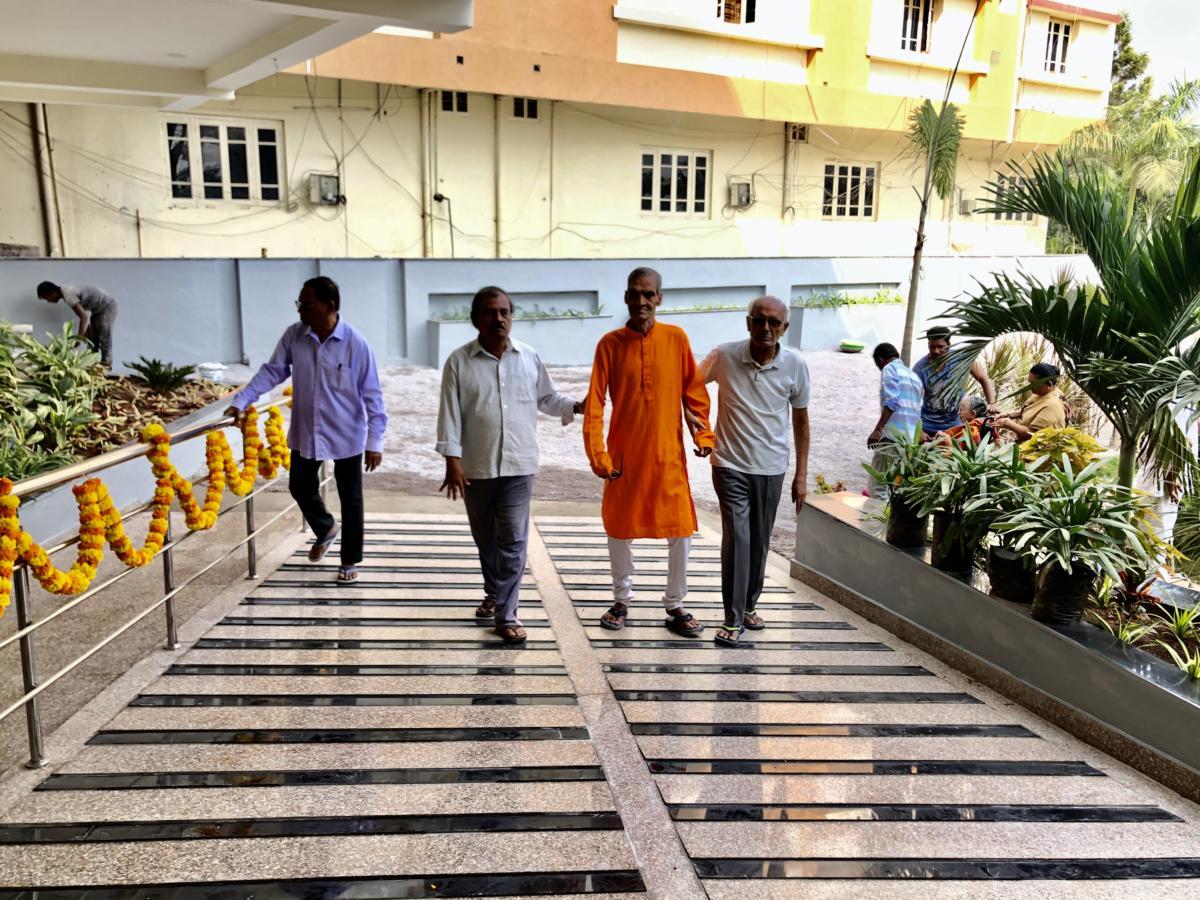 Community Resources for Senior Health in PP Reddy Retirement Homes
Eldercare in India provides consistent and comprehensive care, making the entire Retirement Community for residents and their loved ones comfortable and enjoyable.
PP Reddy's Resort concept retirement homes are bliss to live in. The infrastructure is designed on 4 Acres of lush green area, away from city noise and pollution. As the best retirement homes in India, the building is designed for senior citizens to keep their comfort in the first place.
There are different gardens for senior citizen homes on the campus. A half-acre of organically grown plants for fruits and vegetables and thousands of plants around the campus ensure breathtaking views and a healthier way of life for our residents.
24/7 duty doctor, dedicated nursing team, ambulance, and experienced caregiving staff are the added advantage for a safe and healthy living retirement home with nursing care. It is close to multi-specialty hospitals like Apollo-DRDO, Owaisi, Kamineni, Om Sai Super Specialty, and Global Hospitals in case of emergency.
To create a holistic lifestyle, PP Reddy retirement homes are embracing health and wellness programs along with assisted medical care and mental wellness. With healthy meal plans, engaging social programs, and a wide range of physical activity, older adults can live healthy lives in a safe and secure setting.
Here are some benefits of wellness and health programs offered by senior living communities.
Improves quality of life

Prevents social isolation

Boosts cognitive function

Encourages independence

Promotes emotional health
The team is based on the aim of providing unsurpassed security, comfort, and security to older people, who are the top priority. Five-star facilities allow them to stay in a relaxing and enjoyable.
PP Reddy Retirement Homes have provided senior citizens with top-quality service and care. We hope that seniors are protected in health emergencies considering the current world health emergencies. Moreover, charitable trusts for elderly homes have set up an ICU with three bed care units within the new block on campus. The unit is equipped with medical facilities. This facility not only assists older people in times of need but also reduces the cost of large corporate hospitals to address minor problems. P P Reddy trust is currently available with 24/7 nursing staff and a doctor on call, equipped with an ambulance. Go through the services for more information about it.
#Medical Health Facilities include 
Resident Doctor

Everyday Physio Service

Health Club, Gym

Nature Cure

Homoeopathy and Ayurveda

24 Hours Nursing Care

Psychological Counselling

Geriatric Care

On-Call – Hospital Contact
Assisted medical care is also provided for seniors who need help and ask for it. Round-the-clock assisted care is provided in the retirement home. 
Mental health, or well-being, is crucial for your health overall and the quality of your life. It impacts how we feel, think, behave, make decisions, and interact with others. Controlling loneliness, social isolation and depression and mood with self-care and medical treatment is crucial to maintaining a healthy age.
#Special Facilities
Internet, E-Mail

Bedside Attendee

Hygienic Veg. Food

Ticketing

Wi-Fi enabled campus

Library / Browsing Centre

Fully Serviced Guest Rooms

Lounge / Recreation Areas

Spa & Massage Centre

Reflexology Walkway

RO Water Plant

Organic Garden

Fully functional own Dairy Farm

STD, ISD, FAX

Courier, Banking

24*7 Ambulance. 

Temple Complex

Flower Alcove & water bodies

Outdoor seating areas

Solar Power Plant

Shuffle Area

Multi-Purpose Hall

Central Auditorium

Hobby Garden Area

Walking Track

Table Tennis
#Recreational Facilities
Channel Music

Religious Discourses

Indoor Games

Every room is provided with 32 inches TV 

Festival Celebrations

Home Theater
For mental wellness, all the facilities and the company of like-minded individuals and recreational facilities help you maintain mental health. PP Reddy retirement homes ensure the seniors have a comfortable and lively atmosphere.