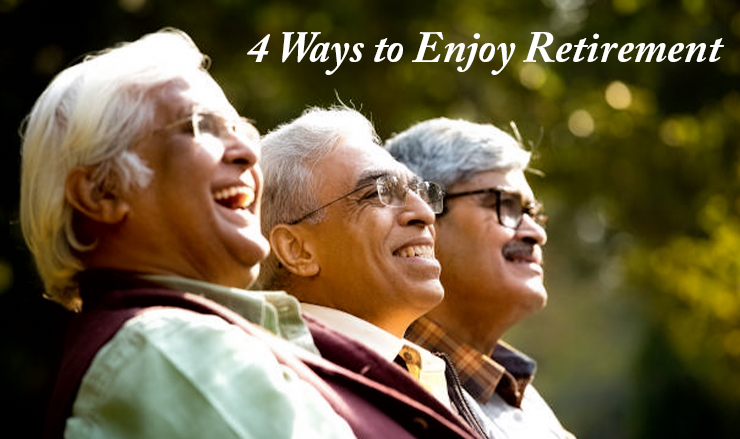 Highlights:
Travel

Learn, Grow and Create

Meet People and Foster Friendship

Watching Movies
Retirement from work can provide a chance to get back in touch with the biggest desires and goals — it is dependent on what you decide to do during your Retirement. It is possible to explore new opportunities and learn new skills and spend more time with your hobbies and people you enjoy. 
A retired person is no longer required to worry about deadlines at work. You are free to do whatever you like at your own pace. Even when your earnings might be less than in the days when you were employed full-time, you can avail a wide variety of senior benefits and discounts.
When a person is working, the term "leisure" often means taking a break from a monotonous life. However, Retirement, it's about getting active and being connected with people. Therefore, we've identified various options to help you stay energetic, physically engaged, and actively involved in activities that allow you to socialize and feel fulfilled.
However, remember that Retirement is about freedom and choices. These suggestions are only an idea to get you started. Use them to chart your path!
From staying fit and healthy to get your mind ready to adjust your mental state, we've got all the advice you'll need to make the most of your Retirement.
#Travel
The forgotten love for globetrotting due to responsibilities and work can now be fulfilled.
If more extensive trips aren't feasible, short trips can be an option – or even days spent in destinations you've never been to before. Retired people can travel for extended holidays and make the most of last-minute offers. Many enjoy regular trips devoted to morning walks, yoga, or the arts. It's time, and there is time to discover your love for travelling.
#Learn, Grow and Create
You finally have the chance to do the things you've always wanted but haven't had the time to do. Writing a journal, being a part of a spiritual group, pottery, gardening etc. The list goes on, but now you're able to achieve the things you've always wanted to do.
Retirement may be the ideal moment to pursue the education you've wanted for a long time or to get to know more about the topic that interests you. There is no age for learning. If your interest is more in expanding your knowledge rather than earning formal qualifications, plenty of courses are available for you. 
Acquire a new technique: Inspiring yourself to learn something new isn't just entertaining, it also keeps your brain sharp. The formalisation of classes and workshops is an option. However, depending on what you'd like to master, you can consider watching online videos that show the skills you'd like to master.
 Learn how to:
Learn a new language

You can play a musical instrument

Make a new kind of food
Create art
Make use of your hands to create something distinctive and original! You can try projects that involve painting, knitting, woodworking and photography, scrapbooking, jewellery making and much more. It is possible to benefit from workshops at studios that provide access to high-quality tools and supplies at budget-friendly prices.
Write
When you have more time to reflect and think, You may discover that you have unique tales or knowledge that can be communicated to the world. Many retired people enjoy writing journals, novels, cookbooks, poetry, how-to guides or plays. You can begin a blog dedicated to food, travel, music, or even the retirement lifestyle. You can also write for yourself. Keeping a journal for yourself can be an excellent method to record memories, ease anxiety, and process your feelings.
Take advantage of events that you are interested in
Be aware of the particular events happening in your area so you can enjoy whatever you want to see, such as concerts, theatre shows and sports events.
#Meet People and Foster Friendship
Humans are social beings; when you don't need to be working every single day, there's ample time to work on enhancing your social connections. It is not only enjoyable, but it's also beneficial for your health. A study shows that having strong social connections will improve your overall health and decrease the chance of developing illnesses such as dementia and heart disease.
Therefore, plan regular gatherings with fellow retired people. Plan fun parties or movie nights. Spend time with your grandkids as well as other relatives. You can also reconnect with old acquaintances via Facebook or at reunions at your school.
Your Retirement doesn't mean you must break up with the circle of people you met at your job. What better way to plan regular meetings? Perhaps you'd like to make use of some of your time off to meet up with friends you've not seen for quite a while. Plan a get-together and enjoy. If you want to meet new people or lead an independent life away from responsibilities which weighed you down in life, the best way is to choose PP Reddy Retirement Homes. A place where you meet new people, make a group of like minded people and live a content and free life. 
#It's a good time to relax and watch films.
It's not necessary that every second of your Retirement has to be filled with things to do. Everybody needs some downtime every now and then So don't be ashamed of watching a little television or having a nap when you're feeling like it. You've time to relax and do nothing, do it.
For many, retiring is the most enjoyable and relaxing period of their life. It is a time to enjoy various activities that keep you entertained and interested. Consider your dreams and goals, and then begin working towards them!
PPR Retirement Homes makes your dream come true, providing a home with the finest amenities where you can retire in peace and enjoy your Retirement.