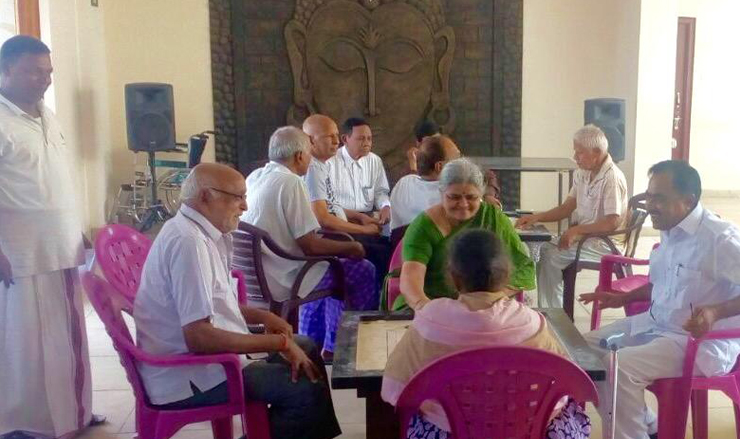 People are sociable, and it's a mistake to think otherwise. More than we may think, solitary life harms our brains. According to the study, social interaction, an active lifestyle and a healthy diet are essential for maintaining proper brain functions. It is a must to be cautious about sustaining mental acuity as people age. A convivial way to have active brain cells is to play brain games.
Playing these games in groups also encourages social interaction, which can help ward off loneliness, and other health risks in seniors. Keeping the brain cells active with various games is a good strategy for senior health. A number of surveys and research prove that brain games can help maintain and strengthen memory, reasoning, and response to stimuli. It also suggests brain games for seniors can encourage independence to do work, lower the risk of dementia and even prevent unsteady gait in the elderly and innumerable people are brought out of depression. Health and mental well-being are just as important as physical health for living life to the maximum.
Cognitive Exercise and Mental Health are easy with these fun and exciting games that boost their self-esteem as well as improve their cognitive capabilities, like memory, focus, reasoning, and problem-solving.
#1 Chess
When Indian rulers created Chess during the 7th century, they had something. This game encourages the application of strategy like "Where do I place my chess piece?" and creativity, like "what can be the next move". One of the top board games to improve the mental well-being of you or someone else you care about is Chess. While some believe that you need to be highly educated in order to master it, it's quite accessible. 
#2 Sudoku
Sudoku is a great free-brain game that seniors can enjoy and can be played virtually any place, at any time. Sudoku can help improve your cognitive abilities and improve memory and allows the brain to be more alert. However, beware – you could end up having a lot of fun with these mind puzzles that are addictive! Sudoku is a number game that involves rearranging numbers from 1 to 9 within a sequence of cells. You can learn details about the rules of the game and learn how to play it in this simple guide. Most importantly, sudoku could be played with paper or played for no cost on the internet.
#3 Board games
Board games are a great game for group play and are great exercise for the brain to solve problems. From word-based games such as Carroms, Scrabble and Monopoly, Trivial Pursuit, Cluedo and many more There's a board game for everyone's interest or level of skill. Many board games are appropriate for everyone, which means they're also a fantastic method to get kids and grandkids engaged.
#4 Jigsaw puzzles
Jigsaw puzzles are an excellent brain-training activity which is enjoyable to play by yourself or with a companion or family member. The great thing about jigsaw puzzles is the fact that they may take weeks, days or even months to finish, which makes them an endless source of relaxation and exercise for the brain. Jigsaw puzzles, after being completed, can be displayed and framed or gifted to people who have helped complete the puzzle.
#5 Crossword puzzles
Crossword puzzles are an enjoyable single, free brain game for seniors that is played virtually everywhere. Similar to sudoku, crosswords as well as other word puzzles are available on paper at shops for games, newsagents, and even supermarkets. They can also be located on the reverse of weekly and daily newspaper and magazine. Crossword puzzles are a fantastic way to keep your brain active and may aid in reducing brain age as it progresses. To assess your brain's age, take these no-cost tests for brain age online! Be young and active- age is just a number.
#6 Do You Remember/ Memory Game
People often are prone to joking about getting less memory when they get older. It doesn't need to happen. Here's a second free brain exercise for seniors, take a test of Your Memory. What's the most effective way in order to assess your mental capacity? Make a list, it can be anything, for instance, your grocery list, or even the next ten books you'd like to read. Then take note of it. A few hours later, you can see how many items on your list you remember. The more difficult your list is, the better the effort for your brain.
#7 Tetris
A well-known classic, Tetris, is available online and is played for at no cost. The once-common childhood game now serves a dual function for adults of older age as a source of entertainment, and also helps train your brain. It's a great and competitive game that will take you back to the days of your youth.
#8 Bingo
Bingo is an entertaining, social game that is played at several Senior Lifestyle communities, as well as certain libraries and senior centres. It is a great way to build friendships and challenges memory issues. Bingo also provides health benefits through participation in the game's activities, for example, hearing numbers when they are announced, sight as you search for the numbers on the bingo card and a feeling when using the markers, pieces or daubers to mark bingo cards.
#9 Reverse the number
To play this game, you don't have to be an expert in math's. Simply being capable of counting and do basic subtraction is all you need. Start counting backwards, beginning at 270 and then subtracting 4 from every number ("266, 262, 258, …"). Start with different numbers and then count backwards and remove a constant every time. Next, beginning from 1000, begin counting backward, subtracting three numbers from each ("1000, 997, 994….").
#10 Carroms
It keeps the mind and body activity in alignment. It helps the seniors to have a good friend's company with whom they can not only socialize but help each other to have an active mind. This can also be played with any age group , these board games help in strengthening the bond among the family members and also among friends.
At PPR Retirement Homes, along with being a sociable place, it also provides a lively and relaxed atmosphere. PPR Retirement Homes have a Wi-Fi enabled campus and Library / Browsing Centre, which allows users to download internet based games. It also has Lounge / Recreation Areas and a provision for Indoor Games, allowing the seniors with well-connected internet services and a place to indulge in group games. and PP Reddy Retirement Homes is best retirement homes in South India.