Retirement is not just the end of a career; it's the beginning of a new phase in life. It's a time when you finally get to reap the rewards of your hard work and cherish the moments you've always dreamed of. And what better way to celebrate this transition than by choosing a retirement home that caters to your every need, like PP Reddy Old Age Homes in Hyderabad?
In this blog, we'll delve into the world of PP Reddy Old Age Homes in Hyderabad, exploring what makes them the perfect choice for your retirement living. From their exceptional facilities to their commitment to ensuring your comfort and well-being, we'll cover it all, ensuring you're well-informed when making this life-changing decision.
Unveiling PP Reddy Old Age Homes in Hyderabad
Situated in some of the most picturesque locations in Hyderabad, PP Reddy Old Age Homes are designed to provide a haven of tranquility and relaxation. These retirement communities are not just buildings; they are vibrant, caring communities where residents can thrive in their golden years.
**1. A Home Away From Home
One of the most common concerns when transitioning into retirement living is the fear of losing the comforts of home. PP Reddy Old Age Homes aim to dispel this concern entirely. Every residence is carefully designed to replicate the warmth and familiarity of your own home, making the transition seamless and comfortable.
**2. Health and Wellness at the Forefront
Your health is paramount, and PP Reddy Old Age Homes in Hyderabad take this seriously. They offer a range of amenities such as on-site medical facilities, fitness centers, and wellness programs to ensure that residents have access to top-notch healthcare and opportunities to stay active and healthy.
**3. Vibrant Social Scene
Retirement doesn't mean slowing down; it means having more time to explore your interests and make new friends. PP Reddy Old Age Homes provide a wide array of social activities, from book clubs to gardening, ensuring that your social life flourishes.
**4. Gourmet Dining Experience
Good food is essential to a good life. PP Reddy Old Age Homes in Hyderabad boast gourmet dining options, where experienced chefs create delicious and nutritious meals, catering to various dietary preferences and needs.
**5. Safety and Security
Security and peace of mind are paramount in your retirement years. These communities are equipped with state-of-the-art security systems and on-site staff to ensure your safety round the clock.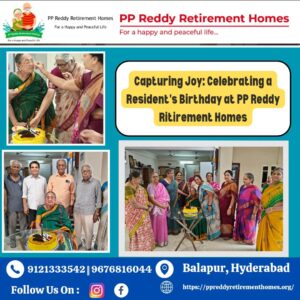 Old Age Homes in Hyderabad: Discover why PP Reddy Old Age Homes in Hyderabad are the best choice for your golden years.
Senior Living in Hyderabad: Learn about the vibrant senior living experience offered by PP Reddy.
Healthcare Services: Explore the on-site healthcare facilities and services.
Social Activities: Find out how PP Reddy Old Age Homes foster a lively social scene.
Gourmet Dining: Delve into the gourmet dining options that await you.
Safety and Security: Understand the commitment to your safety and security.
 Your Perfect Retreat Awaits
PP Reddy Old Age Homes in Hyderabad offer more than just a place to retire; they offer a lifestyle filled with comfort, companionship, and care. When considering your retirement options, be sure to explore what PP Reddy Old Age Homes in Hyderabad have to offer. With their commitment to your well-being and your happiness, your golden years will truly shine bright in the heart of Hyderabad.
Make the choice that's designed for you, make the choice that's designed for your happiness – choose PP Reddy Old Age Homes in Hyderabad. Your journey into the golden years starts here.