The road to recovery after surgery or a medical procedure can be challenging, especially for our senior citizens. That's where Post Operative Treatment Centers come into play, providing the much-needed care, support, and expertise to facilitate a smooth and successful rehabilitation process. At PP Reddy Senior Care Rehabilitation Center in Hyderabad, we stand as a beacon of hope, offering the best rehab care services tailored for our beloved senior citizens.
Post Operative Treatment Centers in Hyderabad: What Sets Us Apart
#1 Best Rehab Care Center:
prides itself on being one of the best rehab care centers in Hyderabad. Our dedicated team of healthcare professionals understands the unique needs of our elderly population, and we offer a wide range of services to address post-surgery rehabilitation, ensuring a full and wholesome recovery.
Comprehensive and Individualized Care: We recognize that each patient is unique, and so are their healthcare needs. Our approach to post-operative treatment centers on providing personalized care plans. These are tailored to cater to the specific requirements of each individual, ensuring that their journey to recovery is as effective as it is comfortable.
State-of-the-Art Facilities: Our rehabilitation center in Hyderabad is equipped with state-of-the-art facilities and the latest medical technology. This enables us to deliver the highest quality care to our patients, while maintaining their dignity and independence.
Skilled Medical and Rehabilitation Team: Our team consists of experienced physicians, physical therapists, nurses, and support staff. They work in harmony to provide round-the-clock care, supervision, and support, ensuring the best possible outcomes for our patients.
Post-Surgery Rehabilitation: Your Path to Recovery
At PP Reddy Senior Care Rehabilitation Center, we offer a comprehensive range of post-surgery rehabilitation services, including: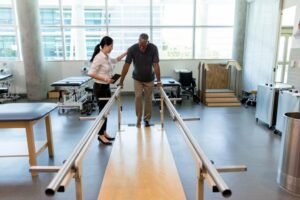 Physical Therapy: Our skilled physical therapists work closely with each patient to rebuild strength, flexibility, and mobility.
Occupational Therapy: We help seniors regain independence in their daily activities.
Speech Therapy: For patients who require it, we offer speech therapy services to help with communication and swallowing issues.
Pain Management: Our team addresses pain control and ensures patients are as comfortable as possible throughout their recovery.
Nutritional Support: Proper nutrition is crucial for healing, and our team ensures that each patient's dietary needs are met.
Psychological Support: Recovery can be mentally challenging. Our staff is trained to offer emotional support and counseling as needed.
The Promise of a Better Tomorrow
When it comes to post-operative treatment centers in Hyderabad, PP Reddy Senior Care Rehabilitation Center is your trusted partner in your journey towards healing and renewed vitality. We are here to ensure that every senior citizen under our care receives the best rehab care available. It's not just about recovery; it's about restoring quality of life.
If you or a loved one are in need of post-surgery rehabilitation services, reach out to us. Our team is dedicated to providing compassionate care, empowering seniors to regain their independence and enjoy life to the fullest. In the comforting atmosphere of PP Reddy Senior Care Rehabilitation Center, healing is not just a goal; it's our commitment.